Rising global uncertainty coupled with slowing economic growth combined to knock Q3 spending on tech acquisitions to the lowest quarterly level in nearly two years. Buyers around the world announced tech purchases valued at just $96bn from July to September, according to 451 Research's M&A KnowledgeBase. (451 Research subscribers can look for our full report on Q3 M&A activity on our site later today.)
The late-summer slowdown, where Q3 spending declined 25% from this year's two previous quarters, has effectively removed 2019 from the top rank of tech M&A. Our data indicates that full-year 2019 is now on track to fall more than $100bn lower than recent strong spending years. That drops this year from an exceptional one to merely above-average.
To put some numbers on that, the third-quarter slump snapped the unexpectedly strong start to 2019 and, more symbolically, it likely ended this year's march to top a half-trillion dollars of acquisition spending. Dealmakers had been very much on track for that significant $500bn+ threshold through the first half of this year. But now, with the change of seasons, it looks increasingly out of reach. Again, we'll have a full report on Q3 M&A activity – including the quarter's top prints, recent trends in private equity dealmaking and how the broader macroeconomic economy is shaping tech acquisitions – on our site later today.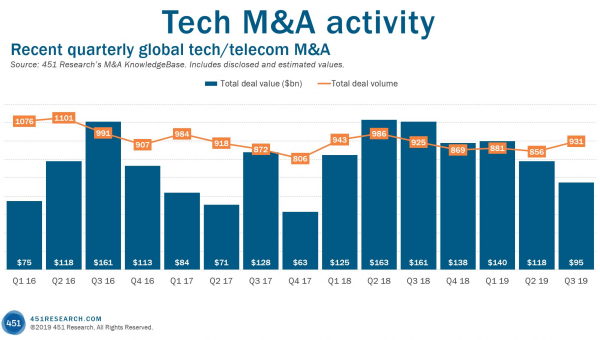 Run this search in the M&A KnowledgeBase to see more detail.